In this post, we will learn how to create your own classifier using python for classification of data. In machine learning and statistics, classification is the problem of identifying to which of a set of categories (sub-populations) a new observation belongs, on the basis of a training set of data containing observations (or instances) whose category membership is known. To do the task of classification, we use classifier.
There are several predefined classifiers like
Naive Bayes
Nearest Neighbor
SVM (Support Vector Machine)
ANN (Artificial Neural Network)
In this post, we will learn how to create our own, kth Nearest Neighbour(KNN), classifier. This classifier is used for classification as well as regression. The input consists of k closest training examples in the feature space, the output is a class membership. An object is classified by a majority vote of its neighbors, with the object being assigned to the class most common among its k nearest neighbors (k is a positive integer, typically small). If k = 1, then the object is simply assigned to the class of that single nearest neighbor.
How KNN Algorithm Works ?
Every classifier has mainly two function
Fit (For training the classifier)
Predict (For testing the results)
So our classifier will also have those two functions, apart from that, we will use ecu(a,b) to find the euclidian distance between the points a and b. Euclidian distance is essential, because it helps in classification, i.e. to determine the nearest neighbor. In this post, we will use the generic, IRIS dataset from SciKit and a class myKnn() which is our own classifier.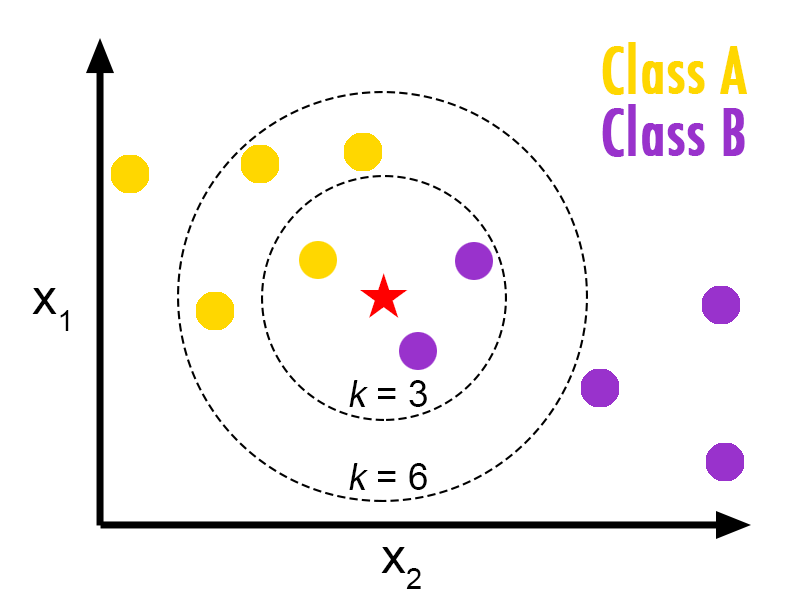 Code for your own Classifier using Python
1

2

3

4

5

6

7

8

9

10

11

12

13

14

15

16

17

18

19

20

21

22

23

def

fit

(

self

,

x_train

,

y_train

)

:

def

predict

(

self

,

x_test

)

:

label

=

self

.

closest

(

row

)

best_dist

=

ecu

(

row

,

self

.

x_train

[

0

]

)

for

i

in

range

(

1

,

len

(

self

.

x_train

)

)

:

dist

=

ecu

(

row

,

self

.

x_train

[

i

]

)

return

self

.

y_train

[

best_index

]
For Euclidian distance
#This function returns the distance b/w two points, a and b

from

scipy

.

spatial

import

distance

return

distance

.

euclidean

(

a

,

b

)
Importing datasets and training our classifier
1

2

3

4

5

6

7

8

9

10

11

12

13

14

15

16

17

18

19

20

21

22

#SciKit learn pagckage must be installed already

from

sklearn

.

datasets

import

load_iris

#We have trained 50% of the dataset, rest we will use for testing.

from

sklearn

.

cross_validation

import

train_test_split

x_train

,

x_test

,

y_train

,

y_test

=

train_test_split

(

x

,

y

,

test_size

=

.

5

)

predictions

=

clf

.

predict

(

x_test

)

#To See the accuracy of our classifier

from

sklearn

.

metrics

import

accuracy_score

print

accuracy_score

(

y_test

,

predictions

)
Yikes, you have created your own, classifier. You can use this classifier or any dataset. Have fun, exploring more. Subscribe us for more awesome tuts like this, you can share this, with your friends and help us grow. 🙂